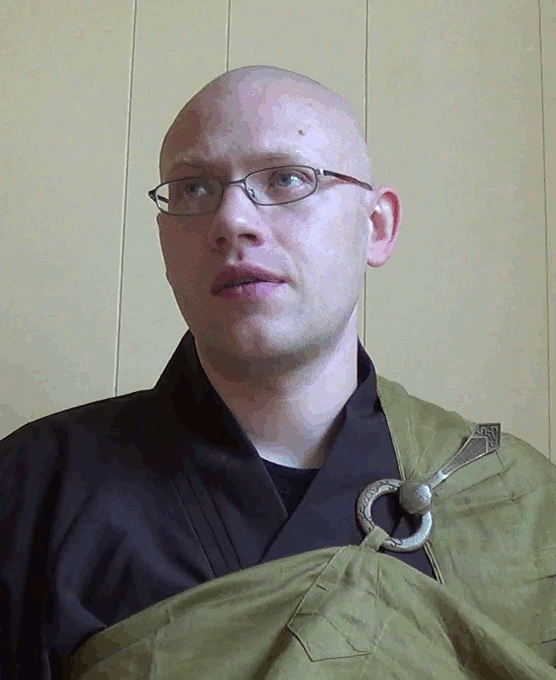 Our Senior Brother is Ven. Yin Feng Shakya.
Shakya began formal instruction with a teacher in 1993. In 2013, he received ordination and dharma transmission in the traditions of Masters Omori Sogen and Hsu Yun. He received the dharma name of Ven. Monju Tengaku in the Order of the Boundless Way. At the end of the same year, he received confirmation of transmission from Ven. Fa Dao Shakya and ordination into the Order of Hsu Yun.
LINEAGE
Master Hsu Yun (d. 1959)
Jy Din Shakya (d. 2003)
Chuan Zhi Shakya
Fa Lhong Shakya & Fa Dao Shakya (d. 2015)
Yin Feng Shakya
He has been actively promoting the Buddhadharma in Northwest Arkansas since 2011 through missionary efforts, prison chaplaincy, hospital visitation, and regular meditation and devotional practice.
Shakya is also a Licensed Associate Counselor, practicing ACT and Gestalt Therapy with children, adolescents, and adults. He focuses primarily on mood disorders, impulse control, and challenges related to gender and sexuality. He is an AAMFT-CA LGBT+ Certified Counselor. As a therapist he emphasizes self-as-context, attentional discipline, and present moment awareness. His practice is also deeply informed by the rich tradition of Yogacara Psychology as it is presented in the Lankavatara Sutra.
You may contact Shakya by email at shakya@sdf.com.